Termed "Exceptional" by AECBytes, 4M brings proven BIM Suite to AutoCAD® users seeking far more affordable, easier transition to BIM than Revit®.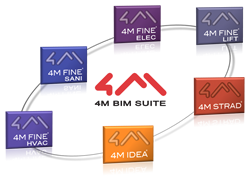 4M 3D BIM Suite
IDEA Architecture is an exceptional, low-cost alternative to BIM applications [Revit or ArchiCAD]. – Dr. Lachmi Khemlani, founder and editor of AECbytes,
The 4M suite, with IDEA Architecture as its center, is the only 3D BIM suite built upon native DWG  technologies. It offers an exceptionally easy 3D BIM for the complete building design flow — from conceptual design of building models, structural analysis, through MEP building services including Mechanical/HVAC, Electrical, and Plumbing, Water and Sewer to construction-ready 2D DWG drawings.
The 4M integrated applications, each sharing a common user interface and data model, include:
    For architects: IDEA Architecture for the design, visualization, and documentation of buildings with a rich 3D BIM library of walls, doors, windows, roofs, floors, furniture, and more
    For mechanical/HVAC engineers: Fine HVAC for the design and analysis of building HVAC services
    For electrical engineers: Fine ELEC for the design and analysis of building electrical services
    For plumbing/sanitary engineers: Fine SANI for the design and analysis of building water, sewer, and plumbing services
    For structural engineers: FINE STRUCT for the design and analysis of building structures
    For contractors: IDEA Architecture to produce, prepare, and maintain construction-ready output, including full sets of DWG drawings and bills of materials (BOMs).